Our Top Tips For Working From Home And How To Increase Productivity
In the early days of the pandemic, when working from home still seemed like a temporary measure, an escape from the office seemed rather fun. Productivity reports suggested the same, with
some business owners marvelling at a "41% increase" in work performance
from those employees forced to set up camp on kitchen tables, in spare bedrooms and within other makeshift home workspaces.
Yet, with some of us remote working for more than a year at this point, it's not hard to understand why our patience may finally be wearing thin. And even though complete freedom might only be in touching distance, two months is still a long time to wait after all we've had to endure.
Are you struggling for inspiration whilst working from home? We'd be lying if we said we'd hadn't found it challenging as well. But what's pulled us through is sticking to a set of rules designed to both boost our productivity and keep our mental health firmly in check.
Tips For Working From Home #1: Take A Break
Although things are on the up, we're definitely not out of the woods just yet. Lockdown life can often become clouded by stress, and this is not something that you need when you're trying to perform to the best of your ability.
Lighten the load by taking regular breaks away from the computer screen and going for a small walk around the house. If your partner is working from home, spend some time in their company and discuss anything that isn't job-related. After this, you might find it much easier to complete those stressful few tasks that have been troubling you for the last couple of hours.
Tips For Working From Home #2: Get Out More
In the office, we're somewhat limited by where we can go. This is not true of working from home. If you're feeling overwhelmed, take a few minutes to go outside, get some fresh air and explore the local area. With so much emphasis on staying in over the past year, this will give you a chance to reconnect with nature, have a breather and keep your body ticking over.
Don't let limitations on how many breaks you're supposed to take each day get in your way, either. More breaks often equal higher productivity.
Tips For Working From Home #3: Change Your Environment
One of the biggest challenges of regularly working from home is how this has interfered with the fabled work-life balance. That's why we'd always advise creating a separate workspace within your house in order to improve your focus. By doing this, you will be able to make a distinction between areas of the home that are for work and those that are for pleasure. This may be particularly beneficial to those who have babies or young children.
Tips For Working From Home #4: Expand Your Horizons
Use your downtime to enhance certain skills that you know will benefit your at-work productivity. This may seem like an overstepping of the boundary between work and relaxation, but not if you make it fun!
For instance, you could set yourself the task of learning something new by committing to listening to a new podcast or reading a new novel every week. Lose yourself in activities that are centred around the things that you love – we guarantee that you'll pick up some things that you can put to good use in your working life.
Tips For Working From Home #5: Let It All Out
As we alluded to earlier, carrying stress into your working day can be extremely harmful to your productivity. Make sure that this doesn't become a permanent problem by talking to your boss, colleagues and co-workers about how you feel. Most employers are fully understanding of how difficult this situation has been and may be able to offer you the support you need to make it through.
Alternatively, make a habit of discussing your feelings with your friends and family (even if you have to do this over Zoom) and use these people as an outlet for your emotions. Getting your fears, worries and anxieties out in the open is so much better than bottling everything up.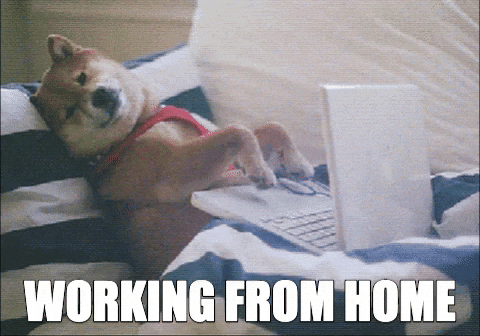 Contact Us Today
At Truly Content, our staff have shown enormous resilience throughout the pandemic and we can't thank them enough for their dedication to our business over the last 12 months. It's because of these people that we've been able to produce such consistent, high-quality work for all of our clients during this trying time.
We will all be continuing to work from home for the foreseeable future, but are very much looking forward to getting the team back together in the office in the summer.
If you feel that your business would become more productive by using some of our services, then please give us a call on 01926 81457 today. Alternatively, you can email us at info@trulycontent.com or visit our website.